A.
1. Working populations
2. The indigenous people – tribals
3. The dalits or so-called untouchables
4. The oppressed nations
1. Working populations
A. India remains predominantly rural — out of a population of 1.2 billion, 72 per cent live in villages.
35.9% of the total population are available for work, 63.5% belong to the 15 – 59 age category
9.4% of those available for work are recorded as unemployed, 4.9% in the 15 – 59 age group     
(Source: Govt. of India, Ministry of Labour and Employment, Labour Bureau, October 2010)
B. Occupational structure(Source: (Source: Aspects of India's Economy Nos. 70 & 71 (April 2018), Table 1,   India's Working Class and its Prospects, Research Unit for Political Economy, Mumbai, India)
c. Types of enterprises
65.8% work in enterprises having less than 10 worker
43.6% are employed in seasonal or ad hoc type of enterprises    
(Source: Govt. of India, Ministry of Labour and Employment, Labour Bureau, October 2010)
A large no of people are engaged in pre-capitalist mode of productions.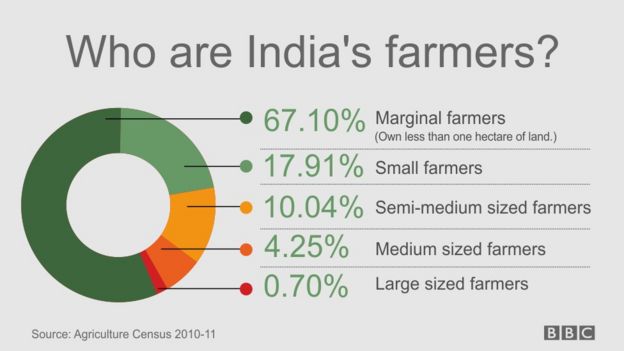 2. The indigenous people – tribals
    (8.2% of the population, mostly landless peasants)
India's Supreme Court judge condemns 'historic injustice' of tribal peoples: 21 January 2011
Two of India's Supreme Court judges have passed a groundbreaking judgement recognising India's tribal people as the nation's 'original inhabitants' and strongly condemning their 'historic injustice'.
Judges Gyan Sudha Misra and Markandey Katju were hearing an appeal case regarding the stripping, beating and parading naked of a Bhil tribal woman for having had a relationship with a man of 'higher' caste. The judges proclaimed that the sentences given to the men involved were too lenient and that the crime was 'shameful, shocking and outrageous' and 'totally unacceptable in modern India.'
The judges praised the tribes of India who 'have managed to preserve many of their tribal customs despite many oppressions and atrocities from other communities'. They recognised explicitly that the country's tribal people, or adivasis, are 'descendants of the original inhabitants of India', unlike the remaining 92% of the population who are 'descendants of immigrants'. The official Indian government position has been that all its citizens are 'indigenous' not just the adivasis.
The Bhil woman's case was examined in the context of 'thousands of years' of 'terrible oppression and atrocities' towards the country's adivasi people. The judges blamed the ill-treatment of adivasis on the commonly held view of tribal people as 'inferior'.
'The mentality of our countrymen towards these tribals must change, and they must be given the respect they deserve as the original inhabitants of India. … The injustice done to the tribal people of India is a shameful chapter in our country's history. … They were slaughtered in large numbers, and the survivors and their descendants were degraded, humiliated, and all kinds of atrocities inflicted on them for centuries. They were deprived of their lands, and pushed into forests and hills where they eke out a miserable existence of poverty, illiteracy, disease.'
The judges warned that the injustice suffered by the adivasis is not yet a thing of the past and that 'now efforts are being made by some people to deprive them even of their forest and hill land where they are living, and the forest produce on which they survive.' The impacts of being removed from their land can be devastating for tribal communities.
From: survivalinternational.org
3. Dalits or so-called untouchables:
      

India's apartheid: the world has chosen to ignore!

(16.2% of the population)
To be born a Hindu in India is to enter the caste system, one of the world's longest surviving forms of social stratification. Embedded in Indian culture for the past 1,500 years, the caste system follows a basic precept: All men are created unequal. The ranks in Hindu society come from a legend in which the main groupings, or varnas, emerge from a primordial being. From the mouth come the Brahmans—the priests and teachers. From the arms come the Kshatriyas—the rulers and soldiers. From the thighs come the Vaisyas—merchants and traders. From the feet come the Sudras—laborers. Each varna in turn contains hundreds of hereditary castes and subcastes with their own pecking orders.
A fifth group describes the people who are achuta, or untouchable. The primordial being does not claim them. Untouchables are outcasts—people considered too impure, too polluted, to rank as worthy beings. Prejudice defines their lives, particularly in the rural areas, where nearly three-quarters of India's people live. Untouchables are shunned, insulted, banned from temples and higher caste homes, made to eat and drink from separate utensils in public places, and, in extreme but not uncommon cases, are raped, burned, lynched, and gunned down.

Cleaning human excreta

Dalits protest
'I'm born to do this': Condemned by caste, India's sewer cleaners risk death daily
Hundreds of thousands of Indians still make their living as scavengers, emptying dry toilets by hand, or cleaning septic tanks without protection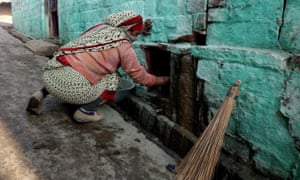 Just before 7am one morning in Mumbai, three men clearing a sewer pipe were overcome by deadly fumes and collapsed. Their deaths sparked a cat-and-mouse pursuit across India.
Records show the bodies of the trio were rushed to an embalmer, where a certificate was issued declaring them safe for flying. Permissions were sought in their home state of Orissa. Within hours, a plane had taken off from Mumbai, bearing their remains, bound for the east Indian state.
In a small office in central Delhi, a group of activists had been quietly tracking the bodies. One of their agents had watched the coffins being loaded onto the plane. An urgent message was sent to a member of their network in Orissa: get to the airport. Find those men.
Chasing the remains of sewer cleaners across the country, and gathering post-mortem evidence to force their employers to pay compensation, has become regular work for the volunteers of the Safai Karmachari Andolan, or Sanitation Workers Movement.
'Worse than slavery'
For the past three years, the organisation has been recording every sewer death they can, stretching back three decades, to build a database many Indian lawmakers would prefer not exist.
They are revealing the toll of what Indians call "manual scavenging", one of deadliest occupations in the world, and starkest examples of the continuing blight of caste on millions of lives.
Hundreds of thousands of Indians are still thought to make their living as scavengers, emptying dry toilets by hand, or cleaning septic tanks and sewers without protection.
They belong overwhelmingly to a single community: the Valmiki caste, regarded as the very bottom of the intricate system that still governs who most Indians marry, what they eat – and who unclogs their sewers.
This past year, more than 300 people are estimated to have died doing the work, including seven in the first seven days of 2018. "This is the most hazardous job," says Bezwada Wilson, the leader of Safai Karmachari Andolan, whose own parents were manual scavengers. "It is the most undignified job, an inhuman, barbaric practice. It is worse than slavery."
'I am born to do this'
The sun has barely risen in Fatehpur Sikri, a small city south of Delhi, when the veiled women gather carrying battered baskets and brooms. Manual scavenging in 2018 takes two forms, split along gender lines. Men clean sewers; women go house-to-house clearing waste from deep holes used as toilets.
Khushba approaches the first of the 40-odd house she services with practised ease. "Get away, this is not clean," she cautions, mouth and nose covered tightly by her scarf, as she douses the hole with fly ash and scoops its contents into her basket.
She first learned she would become a scavenger six months after her marriage at age 17. "I felt sad in the beginning," she said. "But there was poverty and we had to fill the stomachs of our family. So there was no other option for me – I covered my nose and started doing it."
Caste is governed by an obsession with purity. Traditionally, food or water touched by Dalits is considered to be spoiled; in extreme cases, even their shadows were regarded as polluting. This apartheid persists, even in Indian cities, severely limiting the work available to women such as Ladja, another manual scavenger.
"Suppose I have money and open a shop," she says, her face covered by a sheer veil. "Non-Valmiki people won't buy from me. Suppose I want to be a cook. Nobody will let me enter their kitchen."
Five hours' drive from Fatehpur Sikri are the gleaming tower blocks of Gurgaon, a satellite city south of Delhi, home to multinationals, breweries and other badges of modern India.
Deepak Valmiki moved to the city 10 years ago looking for work. He knew that wherever he applied, there would be only one job available. "I am a cleaner," he says, leaning on his motorcycle. "I am born to do this."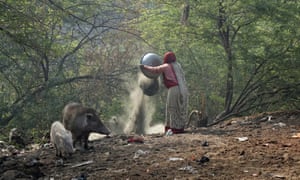 As India has modernised, so too has caste discrimination. Deepak owns a smartphone and wears aviator sunglasses. But at least twice a month, he is forced to enter the septic tank at the automotive factory where he works to clean it without protection.
In September, three of his colleagues died at the bottom of a company tank. "It was a total chemical smell," says Binesh, the only survivor. He entered the tank first and collapsed in seconds. The other three piled in after him, managing to secure a rope around his waist before they too succumbed. He was the only one pulled out alive.
Incidents such as these spark calls for compensation, but few Valmikis seriously question why they do this work, says Wilson. Part of what makes caste so stubborn is its divine sanction in the Hindu tradition. "It has been given legitimacy by the religion," he says.
Deepak thinks hard when asked if he should find another job. "I'm not very sure I could," he finally says. "The people who are supposed to do a job should do that job only. I take it as my responsibility. I clean my country."
Indian governments have passed several pieces of legislation outlawing manual scavenging, the first in 1955. But the gap between Indian law and what prevails on the ground is often vast. Nobody has ever been convicted for using scavenger labour.
India's rail ministry is thought to be the country's largest employer of manual scavengers, employing thousands of Valmikis to clear excrement and rubbish flushed from trains. Most are informally hired at arm's length by contractors. "Recruiters, contractors, they know whom to ask," says Ashif Shaikh, a human rights activist. "They will go to where the Valmikis stay and ask them to clean the tracks."
Through their investigations, the team at the Safai Karmachari Andolan have documented more than 1,500 scavenger deaths since 1993. "And that's a low estimate," Wilson adds. "We think each year it is not less than 500."
A flagship promise by the Narendra Modi government to build toilets for every Indian offers hope for liberating some scavengers. Robotic technology is also being trialled in Kerala state to automate the work. But activists say a lasting solution will come in the form of women such as Ladkunwar.
Four years ago, she too wielded a basket and broom to clean latrines in Rasulpur, her village near Agra. Until one morning, when she felt overcome by the truth of her work. "I was carrying someone else's faeces on my head," she says.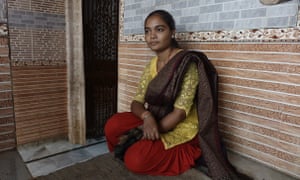 "I sat down with many sisters and started encouraging them that we had to leave this job."
One-by-one, Valmiki women in Rasulpur began to leave the profession. It took four years to eradicate it completely. Many still struggle to make an alternative living. "There are lots of jobs we are not allowed to do. There is still a taint," Ladkunwar says.
But there is also something new in the eyes of the other villagers. "Respect," she says. "Now if someone forces me to clean their toilet, I will lift up my slipper and hit them."
Additional reporting by Shaikh Azizur Rahman
4. The oppressed nations
8.64 millions of India's 67.76 million tribals live in the eight north-eastern states of India. They are Sikkim, Mizoram, Arunachal Pradesh, Assam, Manipur, Nagaland, Meghalaya and Tripura. The region is close to many international borders e.g. Myanmar, China, Bhutan, Nepal and Bangladesh.
The land with its natural beauty and cultural heritage has always topped the list of an ideal destination for travellers as well as colonialists looking for its natural resources. Different ethnic groups and tribals have their own culture and tradition and all speak their own tribal languages. This has made Northeast India one of the most culturally diverse regions of the world. Each tribal community has their unique way of living. Tribal people mostly live and earn through the hills and forest areas. 
Their history shows that one cannot take the mainstream view of the recent liberation struggles being simply religious or cultural or economic. The effort to control the resources is basic to it. It finds an expression in terms of nationality, identity and ethnicity. The tribals refuse to accept the depletion of their resources caused by the commercialisation of forest and agricultural produce.
The phenomenon goes back to the days of British colonialism and three Anglo-Burmese wars (1824-1885).
The ethnic consciousness that grows from this encounter with the dominant cultures and exploitation leads to identity expansion or several groups merging to expand their identity without giving up their individuality. In this process they also develop a belief in a common origin. Apart from commercialisation of their resources, most struggles in the north-east are in reaction to the oppressive homogenising trend of the dominant "one State one nation" thinking of the Indian State and the tendency "to take the degreee of Aryanisation as the measure of Indianisation".
The struggles in the north-east of India are struggles for national self-determination of oppressed nations.
B.
Poverty estimates / Wealth distribution / Spending on Social protection and health / Spending on defence / Spending on fighting Maoists
From: Aspects of India's Economy, No 64, December 2016
From: Aspects of India's Economy, No 64, December 2016
From: Aspects of India's Economy, No 64, December 2016
Figure no's same as the source.
India's spending on defence
India was set to push the UK from the number five spot for spending on defence by 2018
Expenditure on fighting Maoists
How much does India spend to counter Maoism? Under the Security Related Expenditure (SRE)—where the Union government reimburses the expenditure incurred by 'Leftwing Extremism'-affected states in training and operational requirements of the security forces, insurance of police personnel etc.—India spent Rs370.14 crore during the last two financial years. The CRPF, which is at the fore-front of fighting Maoists, received Rs16,228.18 crore in the previous fiscal year. It has been increased by another 1,635.35 crore to Rs17,868.53 crore for 2017-18.
One crore Rupees= £106,000 approximately at the current exchange rate
C. State oppression
The forms of state oppression in India are the continuation of its colonial past,  as the brutal pictures here exhibit. Recently, under the Hindu nationalist Bharatiya Janata Party, India is on the road to fascism. We will return to this aspect of state oppression in the future.
From: Wikipedia
Law enforcement in India is performed by numerous law enforcement agencies. Like many federal nations, the nature of the Constitution of India mandates law and order as a subject of the state, therefore the bulk of the policing lies with the respective states and territories of India.
At the federal level, the many agencies are part of the Ministry of Home Affairs, and support the states in their duties. Larger cities also operate police commissionerates, under respective state police. All senior police officers in the state police forces, as well as those in the federal agencies, are members of the Indian Police Service (IPS).

Agencies
Status of Policing in India Report (SPIR) 2018
Common Cause and Lokniti Programme of the Centre for the Study of Developing Societies (CSDS), launched India's first Status of Policing in India Report (SPIR 2018) at the India Habitat Centre on May 9.
Key findings of the report are as follows:
82% respondents did not report any contact with the police in the last 4-5 years.
Of all those who reported police contact, 67% contacted the police, whereas only 17% were contacted by the police. Of this, Adivasis (23%) are most likely to be contacted by the police, followed by Muslims (21%), OBCs (17%), Dalits (16%) and upper castes (13%).
The rich contacted the police the most (74%) while the police contacted the poor most (21%). Likelihood of police contacting the person is nearly twice as high amongst the poor (21%) as compared to the rich (12%).
44% respondents reported significant fear of the police/ torture in some form.
Sikhs, mainly in Punjab, reported the highest levels of fear among religious communities, with 37% saying they were highly fearful of the police (over double the national average).
People are most likely to report class-based discrimination by the police (51%), followed by gender-based discrimination (30%), caste-based discrimination (26%) and religious discrimination by the police (19%).
Thirty-eight percent respondents agreed that Dalits were falsely implicated in petty crimes, 28% agreed on false implication of Adivasis on charges of being Maoists, and 27% agreed on false implication of Muslims on terrorism related charges.
When looking at the five-year average, only three out of the 22 selected states have been able to meet the reserved quota for SCs (Punjab, Uttarakhand, Delhi). Only six states have been able to fulfil the reserved quota for STs (Bihar, HP, Karnataka, Nagaland, Telangana, Uttarakhand) and only nine states have been able to meet the reservation quota for OBCs (AP, Assam, Jharkhand, Karnataka, Maharashtra, Odisha, Punjab, Telangana, Uttarakhand). None of the states have been able to achieve the 33 percent benchmark for recruitment of women in police force.
An analysis of key findings of CAG audit reports
Shortage of staff quarters is a grave issue. In selected districts of Assam, the shortage proportion is 99%, in Bihar 80%, and 88% in Himachal Pradesh.
48 out of 50 women police personnel in MP cited problem of inconvenience (non-availability of proper toilets, seating, retiring and work spaces etc.).
Under-utilisation of funds is as high as 71% in Bihar, 41% in UP and 32% in Assam signifying mismanagement of funds and lack of training infrastructure.
UP surrendered over 80% of funds for training equipment due to inefficiency.