Latest News
Maoists call for India-wide General Strike (Bharat bandh) on 31st January 2019
 Telengana:
  Heavy forces deployed in view of Maoists' bandh call
The Greyhounds teams and special police forces have intensified combing operation in the more than six Maoist-affected districts.
Published: 31st January 2019 08:52 AM  |   Last Updated: 31st January 2019 08:52 AM  |  A+A A-
Express News Service
HYDERABAD / BHUPALPALLY : The State intelligence officials have issued circulars to all the district unit heads and senior police officials asking them to take precautionary measures and provide security at the congested places and transportation points such as railway stations, theatres, public properties in Left Wing Extremism-affected places in view of Bharat Bandh call given by the CPI (Maoist). The banned outfit wants to observe Bandh on Thursday.
The Maoist party has been conducting week-long protest programmes at different places in several districts in the state, opposing the 'Operation Samadhan', an anti-Left Wing Extremism (LWE) operation strategy by the government. As part of closing the protest programmes, the Maoists have given a call for Bharat Bandh on Thursday. Taking into consideration inputs on extremists' likely activities in Maoist-affected areas, the intelligence officials have warned the district superintendents of police (SPs) and senior IPS officers holding several key positions in the state against laxity in taking measurers in preventing Maoist violence.
In the circular, the intelligence officials have asked the police officials to provide security at the famous dams, bridges, railway stations, film theatres, congested places and other public places where government structures located in Maoist-affected localities to thwart violent  activities allegedly planned by the extremism outfit's cadre. Keeping in view the ensuing elections for Parliament, the State police have kept a close watch on movements of Maoists in border areas with other states.
"As precautionary measures, police have provided heavy forces at Kaaleswaram Mahadevapur, Palimela, Kannayigudem, Vaajedu, Venkatapuram, Eturunaagaram, Mangapet and Tadvai mandals in Jayashanker Bhupalpally district,'' senior police officials said. "We have provided additional forces including para military staff at the prestigious — Kaaleswaram project based on intelligence inputs on possible threats from Maoist party cadre."
Combing intensified 
The Greyhounds teams and special police forces have intensified combing operation in the more than six Maoist-affected districts. The local police in several districts have initiated frisking and checks at different places.
Meanwhile, imposing prohibitory orders under section 144 of the CrPC in the city, Hyderabad Police Commissioner Anjani Kumar warned the miscreants against indulging in purveying fake news through social networking sites. If anyone is found violating rules, police would take stern action, the Police Commissioner said.
Security beefed up at Kaleshwaram Project 
Bhupalpally: Following 'Bharat Bandh' call given by the CPI (Maoist) on Thursday, the district police and central para-military forces have taken up intensive combing and checking in the bordering areas of Chhattisgarh and Maharashtra.
In the wake of intelligence report that Maoists might try to attack Kaleshwaram Lift Irrigation Project (KLIP), a large contingent of police has been deployed at the project sites.
"Security has been beefed up at all the project sites in the district. Our men have been put on high alert and measures are being taken to keep ultras away from the district," SP R Bhaskaran said.
Intensive combing and checking is going on at Kaleshwaram, Mahadevpur, Pallimela, Kaniyegudem, Wazedu, Venkatapuram, Eturnagaram, Mangapeta and Tadvai mandals of the district.
Odisha:
Bharat Bandh block roads
Bhubaneswar: Maoists are today observing 'Bharat Bandh' on the last day of their Martyrs' Week and have resorted to road blockade in some places of Odisha.
The red rebels blocked Kotagarh-Muniguda road near Bandapipili and Baliguda-Daringbadi road near Pakaladami ghat in Kandhamal district by cutting down trees.
The extremists also put up posters and leaflets at the spot urging people to extend their support towards the bandh call.
Effect of the bandh was also evident in Malkangiri as vehicular movement in the district, especially on Malkangiri-Jeypore road, came to a grinding halt.
In Kalahandi, the Maoists blocked road at Kendhu ghat in a similar way and torched a excavator, which was engaged in road construction work.
Similarly, in Rayagada, the Maoists blocked road at Chatikana and put up posters in the village.
Andhra-Odissa border region
Bandh Disrupts Life In Three South Odisha Districts
Phulbani/Malkangiri/Bhawanipatna: Life came to a grinding halt in three South Odisha districts of Kandhamal, Malkangiri and Kalahandi districts following a 12-hour Bharat Bandh by the outlawed CPI (Maoist) on Thursday.
Vehicular movement was disrupted in Kandhamal district with Baliguda-Daringbadi Road being blocked by felling trees at Pakaladami Ghat. The ultras also blocked Kotagada-Muniguda Road at Satanalia and put up posters opposing the Green Hunt operation being jointly carried out by Central para-military forces, district voluntary force (DVF) and Special Operation Group (SOG).
Similar blockade was seen on Phikarakupa-Dhepaguda road in Kalahandi district, while no government bus plied in Malkangiri.
Informing the media, Malkangiri SP, Abhishek Meena said a joint combing operation by the BSF, SOG and DVF has been intensified in the remote and sensitive areas in the district.
Besides, the district police are in touch with their counterparts in Andhra Pradesh and Chhattisgarh to share the intelligence network and track the movement of the Maoists along the border areas, he added.
Notably, the Maoists had observed the Protest Week from January 25 in which they had conducted several meetings with the villagers in the remote areas of Maoist-prone districts of Odisha, Chhattisgarh, Andhra Pradesh and Jharkhand. The Left-wing extremists have given the Bharat Bandh call on the last day of the Protest Week on Thursday.
Maoists in Kerala take up local issues
New Indian Express : 18th December 2018 02:21 AM  |   Last Updated: 18th December 2018 02:56 AM  |  A+A A-
Express News Service
KOCHI: Giving a tough challenge to the Kerala Government, Maoists in Kerala have called for active involvement in local issues to connect with the public and garner their support. Considering the gravity of this strategy mooted by Maoists, a high-level meeting was held in Kozhikode on Monday attended by Chief Secretary  Tom Jose, State Police Chief Loknath Behera and other senior officers.
The meeting decided to immediately take necessary measures to prevent the Maoists from strengthening their influence among the locals.
Kannur Range Inspector General Balram Kumar Upadhyay said: "The meeting decided to take up development work in backward areas in Wayanad district on a war-footing. The work will focus on schools, roads, hospitals  and electricity."
Two days back, a five-member armed group of Maoists visited Thalappuzha in Wayanad demanding legal action against the persons responsible in connection with alleged suicide of  Thavinjal Service Cooperative bank employee P M Anilkumar. The group also threatened with public execution of those involved if justice was not delivered.  The group also interacted with the public and pasted posters demanding action against  former bank president P Vasu. "We have already formed special teams to nab the accused in connection with the alleged suicide of Anilkumar. As per our investigation, he is absconding and we have taken necessary steps to nab him," Balram Kumar Upadhyay added.
According to a senior police officer, the decision of Maoists to interfere in local issues is a matter of big concern for the state government. "They are trying to play with the sentiments of the common man who always feel that justice is served only for the wealthy and powerful. If people start accepting the doctrines of the Maoists, situation is going to be really hard for the police as locals will start supporting them," the officer said.
The state has been wary of Maoist groups taking up local and public issues as part of their strategy to connect with the people after a gang of nine suspected Maoists vandalized the corporate office of Nitta Gelatin India Limited (NGIL) at Panampilly Nagar in November 2014 to protest against the company's plant which allegedly polluted Chalakudy river.
Police of Kerala Government led by the self-styled 'Communist Party of India (Marxist)' comes up with 'Operation Anaconda' to flush out Maoists.
Thiruvananthapuram: The Kerala police have intensified anti-Maoist operations in forest areas along the tri-junction corridor between Kannur and Palakkad. Search operations under the special drive christened 'Operation Anaconda' have been carried out by the security forces led by Thunderbolts — the elite paramilitary commando unit of the Kerala Police – anti-Naxal squad, and Armed Reserve Battalion in coordination with the local police, quotes Manorama.
Following reports of armed persons attached to the banned Communist Party of India (Maoists) being sighted in many parts of the region recently, the combing operations were stepped up.
As per reports a large posse of police personnel and commandos have been camping in the forest for the past two days.
Naxals to Expand Base at Tri-Junction of Kerala, Karnataka & Tamil Nadu states

According to an India government intelligence report,  "in a few years Naxalism will have a consolidated front in Western Ghats and tri-junction area."
New Delhi: Naxals are on the verge of creating a 'consolidated front' on the Western Ghats.
The tri-junction being the dense forests of the region where the states of Karnataka, Tamil Nadu and Kerala meet.
Naxals are expanding at an alarming rate in this region because of three main reasons.
— First is the nature of area that Naxals are exploiting—places which have least government penetration and consequently maximum dissatisfaction against the state.
The Naxal division working specifically on this region, being squeezed by forces on all sides in Bastar area, is Western Ghats Special Zonal Committee (WGSZC).
Over the past few weeks, the report states, "most number of Naxal sightings were from Wayannad, Mallapuram, Kannur, Kozhikode and Palakkad districts of Kerala and in terms of human development indicators these districts lie at the bottom, thus, constituting perspective area for naxal growth and operation."
— The other problem is that Naxals have set their bases up in, as the report states, the "unexplored jungles" in the tri-junction region. This is the area that was under firm control of the brigand Veerappan.
So while "Tamil Nadu police and Karnataka police had a firsthand experience of the jungle in their respective states due to the forest brigand Veerappan," Kerala still has very little knowledge about the topography, which has resulted in a rapid expansion by Naxals in this area.
According to intelligence shared by police departments of Tamil Nadu and Karnataka with central agencies, Naxals are also getting familiarised and trained according to the terrain. Arms training is regularly being undertaken in dense jungles of Wayanad.
Due to the frequent operations by Anti-naxal Force and the special task forces of Karnataka and Tamil Nadu Naxals were forced to flee towards the jungle areas of Kerala, the intel report adds.
"But for Kerala, combing operation is new to them and requires assistance. Kerala has vast jungle areas that are left unexplored."
— There is yet another hurdle for the forces to deal with in order to counter the growing influence of Naxals in the tri-junction area—since in the dense forests there is no way to mark boundaries, problems of jurisdiction arise. These problems can only be dealt with a coordinating agency for conducting anti-Naxal operations for all the three states. Such an authority does not exist so far.
All these issues have come together to fuel activities of Naxal fronts that have "increased considerably" in places like Erode, which lies in Tamil Nadu, but is close to both Karnataka and Kerala.
Senior officers say that the Kerala has been identified to be "vulnerable" due to less manpower and inadequate weaponry. This has caused the three states to demand deployment of central troops just as is the case in the Dandakaranya zone which includes parts of Chhattisgarh, Odisha, Telangana and Andhra Pradesh.
Naxals regrouping in Tamil Nadu, Kerala, Karnataka: Police
In a first since 2005, there have been sightings of Maoist groups in the Western Ghats, says an intelligence report
Wayanad (Kerala): The Kerala and Karnataka Police as well as intelligence agencies say there has been a strong Maoist resurgence in the Kerala-Karnataka-Tamil Nadu (KKT) region, in what could deal a blow to the Union government's efforts to contain Left-wing extremism (LWE) in the country,
After a hiatus of nearly 12 years following the 2005 killing of Saketh, a Karnataka state committee member of the Communist Party of India (Maoist), the group has started making a comeback in the KKT tri-junction, according to an intelligence report reviewed by Mint.
"Currently the Western Ghat zonal committee is run by B.G Krishnamurthy and militarily supported by Vikram Gowda. Their main recruitment is from Karnataka and Chhattisgarh, but they prefer to stay in Kerala parts of Western Ghats. There have been sightings and four groups are operating in the Kerala side of Western Ghats," the report said.
"In September 2017, five armed Maoist cadres forced their way into a house at Parappanpara in Kerala's Kozhikode district. Having robbed the owner of basic supplies and food, they warned him against contacting the police, and fled. The next day, the Kerala Police embarked on a massive combing and search operation against the group in the nearby forest areas, only to find that the group had escaped without a trace," said a senior Kerala Police official, seeking anonymity.
Though they could not be located, the team of Maoists (of that particular group) was led by Soman, who hails from Wayanad and is also a former leader of another Maoist front organization, the official added.
While the Kannadiga cadre of the Maoists has suffered a decline because of the gradual shift to Kerala, senior state police officials said that the southern tip of Karnataka, overlapping with Kerala and Tamil Nadu had become a safe haven for the CPI (Maoist) cadres who had begun to retreat from their current strongholds in the Andhra-Odisha border.
"To strengthen themselves, they are planning to develop morally, militarily and their organization capabilities. They are planning to train uneducated cadres by giving them both tactical and political education," the aforementioned report said.
On 21 April 2017, the Kerala Police conducted another round of combing operations in the Nilambur Forest in Malappuram district after receiving reports of a Maoist group camping inside the forest and intelligence units in the state confirmed "that the group had planted landmines around their camp near the Mancheeri Tribal Colony, in an apparent bid to prevent police raids. A group of armed cadres had also warned the Mancheeri Colony residents of landmines and had asked them not to enter their camp area."
Experts said that state borders were more porous, given lower levels of policing.
"State borders are less policed and so Naxal movement is easy there. But there needs to be more specific intelligence on their movement and where they will hit next," said Gurmeet Kanwal, defence analyst at the Institute of Defence Studies and Analyses in New Delhi.
Basavraj takes Over from Ganpathy as New Chief of CPI (Maoist) and India's 'Most Wanted' Man
In his over three-and-a-half-decade association with the organisation, Basavaraj has served as the chief of Central Military Commission of CPI(Maoist).
While Ganpathy is from Berpur village of Jagdil district, Telangana, Keshav Rao is from Gianapet village of Srikakulam district of Andhra Pradesh. Ganpathy used to work as a teacher in Eligadu village of Karimnagar district and joined the Maoists after meeting Kondapalli Sitaramaiya who founded CPI-ML People's War Group.
In his over three-and-a-half-decade association with the organisation, Basavaraj has served as the chief of Central Military Commission (CMC). Intelligence sources had a few weeks ago attributed the rise in the number of incidents against security forces in Bastar to his promotion.
Basavaraj is known for being an expert in explosives and military tactics. He has been underground for the last 28 years. Little is known about his past except that he graduated from Regional Engineering College (REC) in Warangal, now renamed the National Institute of Technology (NIT). He was often arrested in Srikakulam for his agitations and protests led in student days.
"Every offensive against the security forces in the area you can think of, from Dantewada 2010 attack [in which 76 CRPF soldiers were killed], the Jeeram Ghati attack [in which 27 people, including former state minister and leader of Salwa Judum – Mahendra Karma, and Chhattigarh Congress chief Nand Kumar Patel, were killed], have been planned and ordered directly by him," an intelligence officer told News18.
The officer said Basavaraj is the brain behind the organisation's attacks against security personnel and his elevation may see a spike in such incidents.
For past several months, there have been speculations in Bastar about Ganpathy's failing health. It was reported that the Naxal leader, who has a Rs 2.5 crore bounty on his head, was suffering from liver problems and had to be carried around.
The press release issued by the CPI (Maoist) makes an almost obituarial reference to Ganpathy, mentioning the illness he's suffering from thrice, and recounting his 25-year tenure as the head of the People's War Group, which then merged into CPI (Maoist) and took the shape of outfit that is today active in Bastar, parts of Madhya Pradesh, Odisha and Jharkhand.
* In a future article we will discuss the history of peasants uprisings in these places – the heartland of such struggles in India.
Define The Term 'Urban Naxal', Historian Romila Thapar Asks India Government
Talking on the house arrests of five activists, she said these are the people who are fighting against social injustice.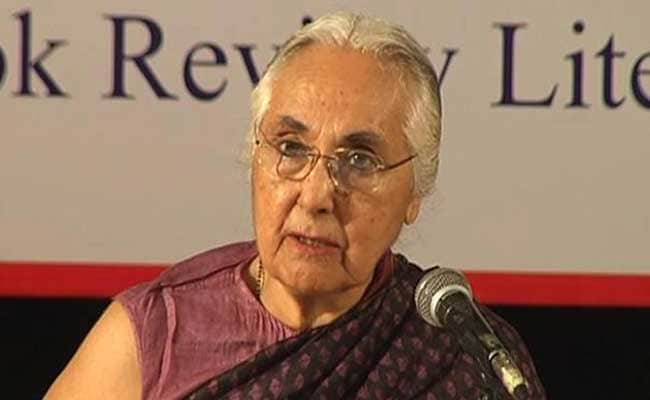 NEW DELHI: Eminent historian Romila Thapar, who petitioned the Supreme Court against the house arrest of five Left-leaning activists, has asked government to define the phrase 'urban Naxal', saying either they do not understand the meaning of the term or the activists like her do not.
Talking on the house arrests of five activists Varavara Rao, Arun Ferreira, Vernon Gonsalves, Sudha Bharadwaj and Gautam Navlakha, she said these are the people who are fighting against social injustice.
"We were all born Indians, lived as Indians all our lives. These activists are fighting for good causes and terming them urban Naxal is a political move," she said.
"Do they even know what urban Naxal means, first ask the government to define the term urban Naxal and then tell us how we fall into this category. It is very easy to call us urban Naxal. And also tell us how we have become urban Naxal, either the government does not understand the meaning of urban Naxal or we don't understand the meaning of the term," Ms Thapar told PTI.
She was speaking on the sidelines of a press conference held by the petitioners after the Supreme Court judgement on Friday refused to interfere with the arrest of the five rights activists in connection with the Bhima-Koregaon violence case and declined to appoint a Special Investigation Team (SIT) to probe their arrests.
The five activists have been under house arrest since August 29.
Politicians like Maharashtra Chief Minister Devendra Fadnavis have often referred to the five activists as "urban Naxals".
Many social media users have enlisted themselves as "urban Naxals" in a show of solidarity with the arrested Leftwing activists as 'MeTooUrbanNaxal' hashtag trended on Twitter.
They countered that the term 'urban Naxal' was a mere creation of some sections to brand everyone as Naxalites (so that they can be arrested) who have an anti-establishment stance.
Ms Thapar, economists Prabhat Patnaik and Devaki Jain, sociology professor Satish Deshpande and human rights lawyer Maja Daruwala were the petitioners who filed a case in the Supreme Court after the five lawyers, journalists and civil rights activists were arrested across the country on August 28 and charged with abetting acts of terror under the Unlawful Activities (Prevention) Act (UAPA).
"Any democratic institution cannot take law into its hands. It has to go through a certain procedure. Arrests are the last step of a probe it is not the first step of an investigation," she said.
"Arbitrary arrests on implausible charges means the police can walk into our homes and arrest us – either without a warrant or a warrant written in a language we don't understand and then accuse us of activities about which we know nothing," she said.
Woman Maoist Commander Killed In Chhattisgarh's Sukma
From: Press Trust of India
Updated:November 22, 2018
 Raipur: A brave Maoist woman commander, who was carrying a reward of Rs 8 lakh (£8800) on her head, was gunned down by security forces in Sukma district of Chhattisgarh on Wednesday, police said.
The skirmish took place in the evening in a forest near Chitalnar and Dondipadar villages under Pushpal police station limits, in which Military Platoon Commander Jyothi Muriyami of the People's Liberation Guerrilla Army was killed, state's Deputy Inspector General (anti-naxal operations) Sundarraj P told Press Trust of India..
"A team of state's District Reserve Guard (DRG) that was out on an anti-Naxal operation, reached the forest of Chitalnar and Dondipadar, located around 500 km away from the capital Raipur when it came under heavy fire from a group of ultras that led to a gun-battle," he said.
After the exchange of fire ended, the body of the woman Naxal cadre was recovered from the spot, the DIG said.
Muriyami was active as a commander of Peoples' Liberation Guerrilla Army platoon no. 31 of Maoists and was carrying a reward of Rs 8 lakh on her head, he added.
"She was a hardcore cadre in Kanger Valley area along the Chhattisgarh-Odisha border area and has been instrumental in executing several deadly incidents," he said.
Further details are awaited as the search operation was still underway in the region, he added
Red salute to comrade Muriyami!
Discovery of pen gun from slain Maoists alarms security forces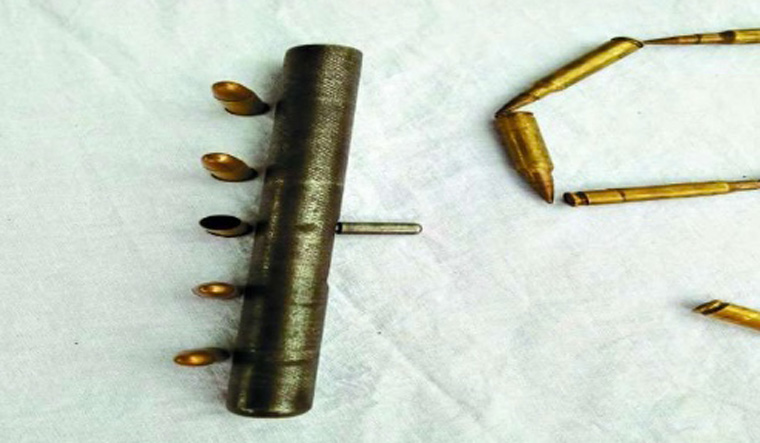 For the first time since the emergence of Naxalism, a country-made pen gun has been found in the possession of one of the eight suspected Maoists, who were killed in encounter on the hills of Bailadila in Bijapur district of Chhattisgarh on Thursday. The discovery has surprised the security forces.
According to police sources, two rifles, along with some other weapons, were recovered from Maoists, but the most surprising find was a pen gun. Local media, quoting jawans who were part of the encounter, said the pen gun was recovered from the lady Naxal commander, Jaini, who was among those killed in the encounter.
The small, country-made weapon was made from a nine-inch long metal pipe with nine mm bullets to be used in it.
The pen gun, which resembles a flute, has a range of 15 to 20 metres, according to locals. It is mainly used by the Maoist cadre in emergency situations when they lose their main attack weapons—AK47s and INSAS rifles.
Most of the weapons used by Maoist guerrillas are those that are normally used by police and para-military forces. They often loot the arms carried by the security forces whenever they ambush patrolling parties. According to an estimate, over the last 20 years, nearly 4,000 weapons have been stolen or snatched from police forces by Naxals.
The discovery of indigenous pen gun from Maoists has alarmed the police who will have to rethink about their security strategy as the small weapons may pose threat to important people in the election year.
Over the last two years, Chhattisgarh police has launched a major offensive against the Naxals in Bastar zone. Thursday's encounter saw eight Naxals being killed, while earlier this year, 18 Naxals were killed in two separate encounters in south Bastar.
Thursday's encounter is considered important as Union Home Minister Rajnath Singh called up Chief Minister Raman Singh to congratulate him over the same. Later, a statement was released by government saying the home minister congratulated state for the successful operation.
************************************************
'URBAN MAOISTS': IN MODI'S INDIA, IF YOU ARE IN THE RIGHT YOU MUST BE ON THE LEFT
Nationwide police raids on human rights advocates come at a time of rising discontent and anger against the ruling BJP government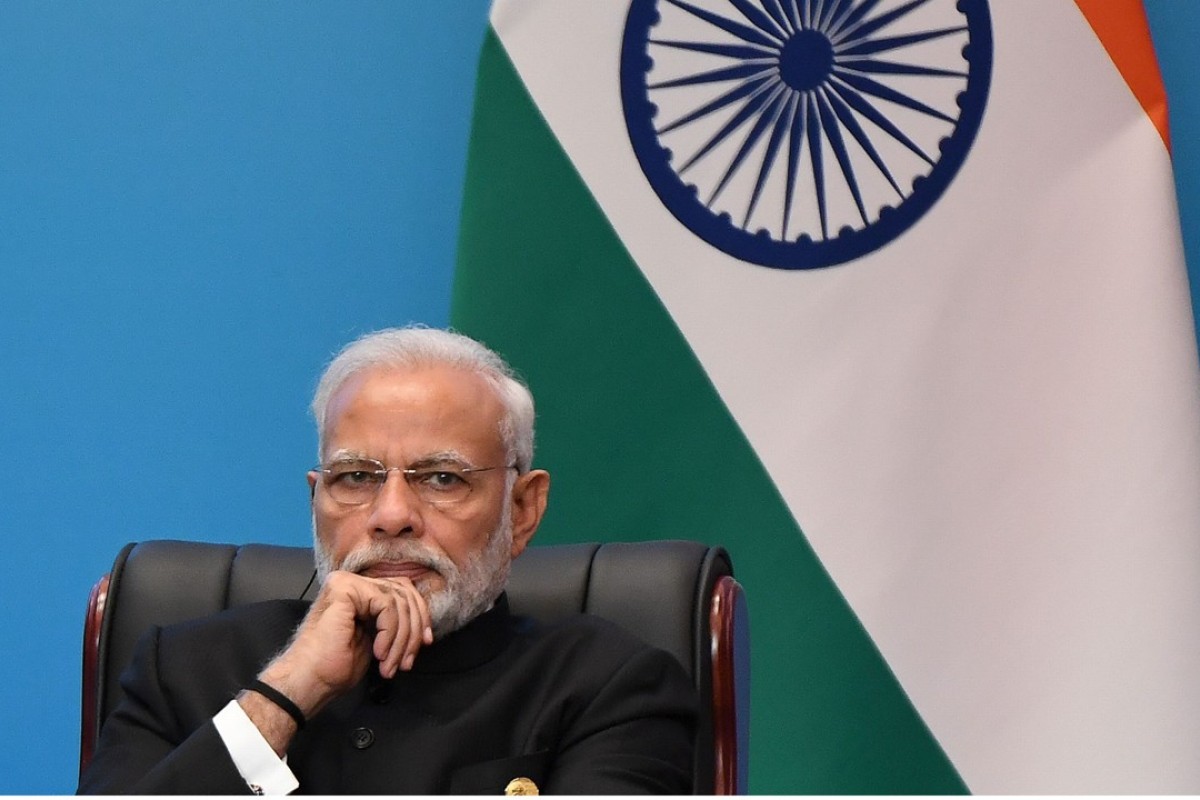 Indian Prime Minister Narendra Modi looks on as he attends a signing ceremony during the Shanghai Cooperation Organisation (SCO) Summit in Qingdao, China. His ruling government has come under fire for a crackdown on dissent following the arrest of key rights activists. Photo: AFP